painting fabric
PAINTED FABRIC WING-BACK CHAIR
Painting Fabric may seem a little odd at first, but you really can have a statement chair on a budget by making an old tattered and worn out chair look brand new with some paint! It sounds bizarre we know but we have made over so many fabric chairs with excellent results and gives it gives a new life to an otherwise outdated piece of furniture. A painted chair won't crack or feel rough if you follow the right steps! It should feel like leather once you're done! So follow along for the step by steps of a Painted Fabric Wing-Back Chair with Fusion Mineral Paint in Cashmere.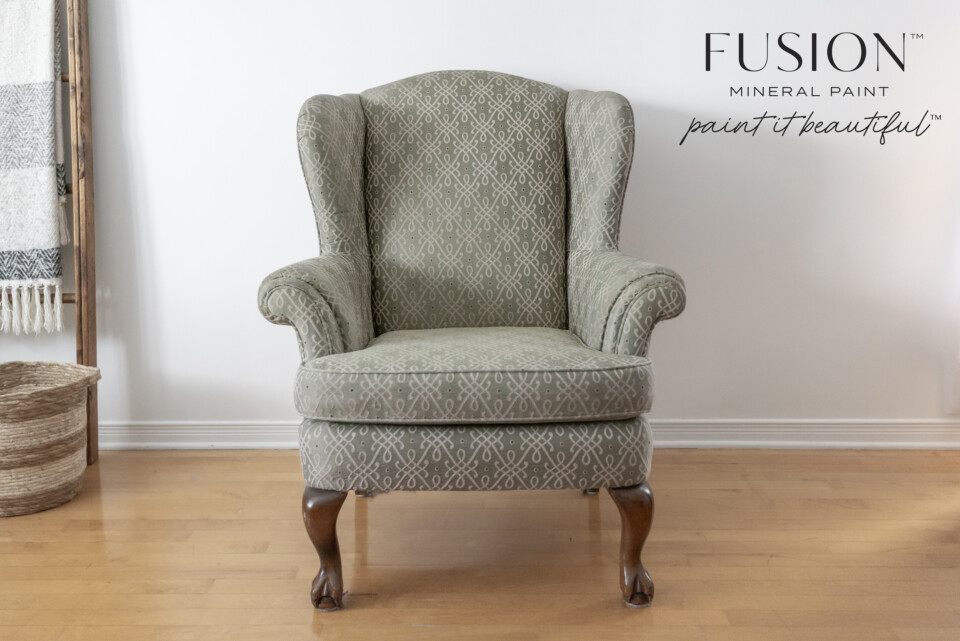 It's worth giving painting fabric a try if it's a good quality chair, with good bones, because upholstery is quite pricey!  Fabric colours and styles will trend, so adding a bit of paint is the perfect DIY for an inexpensive upcycle.  So we are going to paint the fabric and give it a whole new look! 
MATERIALS USED FOR THIS STATEMENT CHAIR:
Fusion Mineral Paint Cashmere
Spray bottle and water


Step 1:

To prepare the chair for painting, first give it a good vacuuming to remove any dust, and make sure to get inside any crevices and under any cushions. Something to note, every fabric will take the paint slightly differently. The tighter woven the fabric, the better the overall feeling, while fabrics like velvet and microfiber may be a tad trickier with their finished look and feel.

Step 2:

To properly absorb the paint, it is best to wet the fabric first.  This helps the paint spread further and thinner. You can use our continuous spray bottle and spray the chair in sections. 

 

Step 3:

Mix 1 part paint with 1 part water for your first coat to absorb well into the fabric think of "dyeing" the fabric. Once dry, sand between coats and apply a second or third coat as needed, gradually working up to full-strength paint for your last coat.






Step 4:

The final coat should be full-strength paint, not watered down.  Allow this last coat to fully dry – this can take up to 12 hours depending on how many coats and layers and how thick the fabric was.


Step 5:

This last step is not necessary but will give you a beautiful feeling finish. Apply a coat of Furniture Wax in clear to give it a soft smooth leather-like feel. Remove and buff off all excess wax prior to using the chair. 




Statement Chair

We used Cashmere  as it has a beautiful soft creamy neutral undertone. The original fabric had some raised embroidery detail which can still be seen through the paint. It took a total of 3 coats of paint and for a darker colour it would only take 2 coats, so it's a very economical way to change a fabric chair  The waxing gives it a leathery look with a slight sheen and enhances any raised detail on your fabric. Such a great way to have a statement chair on a budget!

Would you try it now you have seen how easy it is to do?